About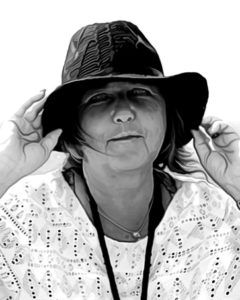 Kim Sturgis is a Florida-based freelance designer who strives to find a harmonious balance between functionality and aesthetics.  She has been producing some form of design or art virtually her entire life.  She has over 25 years of experience in graphic design, web design and brand identity. Her web design experience encompasses both design and coding, utilizing tools such as HTML5, CSS, WordPress, Java, Adobe Illustrator and Adobe Photoshop.
Kim likes to work at that sweet spot between beauty and purpose to craft an inspiring, compelling and authentic brand appearance.  She has a certificate in Graphic Design and is currently working on a degree in Graphic Design.  She has designed logos, stationery and websites for a wide variety of companies, including a roofing company, pool company and several healthcare facilities.
Kim was born and raised in Salt Lake City, Utah, but has spent the last 20 years in Florida.  She spends her free time either at her piano keyboard or at the art table working with all kinds of media, including pencil, ink, acrylics, and watercolors.  She loves to create harmonious, intuitive drawings and paintings through the art and science of form, color and balance.  She also loves to travel and spend time with her family and dogs.
Whether you are seeking to create a new website for your small business, or looking for a new graphic theme or logo to make your company stand out, she can handle all of your web, print and graphic design needs.  From logo design and company 'branding' to complete web design and affordable web site hosting, Kim's goal is to give you everything you need to succeed, and look good doing it. Every design project starts from scratch, with simple, elegant and easy-to-use design concepts presented in a personal, friendly manner, with quality you can trust.  Your website, logo and graphic design style show the face of your small business to the world. Your company is as unique as you are – let Kim help you stand out and be recognized in the way that you deserve!